A/B testing with PHP
It's quite surprising that the PHP A/B Test script is fully featured, and yet 100% free! There's very little setup, and then you can start running your A/B tests within 10 minutes or so.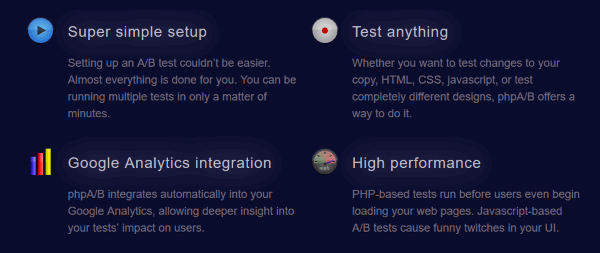 A/B testing is very useful when you want to test your page content, CSS, various designs, calls to actions, etc. The script integrates with Google Analytics, helping you get a better understanding on the page versions that work best.
PHP A/B filters out search engine robots, keeping your data clean and relevant.
To install, download the script, unzip it, upload it to your server, and then include the phpab.php script at the top of your PHP page. Then, add at least a variation for one of your web pages, and then start tracking the results using Google Analytics.
The script is free for personal and commercial use.
Wi-Fi Connectivity Checker Script
Losing Wi-Fi connectivity is an unwanted, and yet unavoidable problem. Often times, the router itself is the cause, and a simple restart fixes the problem. But what can you do to restart it, if it is in a remote area, and you've already lost access to the network?
According to Data Alliance's specialists, the top 3 reasons why routers disconnect are:
– IP address changes;
– Overheating;
– Too many simultaneous connections.
If you need to access various devices remotely and you've ever faced this problem, you will be glad to discover the Automatic Wi-Fi Connectivity Checker & Reconnect script.

The script makes use of the DevCon command line application, pinging Google regularly. If Google's site is down, this means that your wireless connection is down as well. And if this happens, the script will disconnect the Wi-Fi connection, wait a bit, and then reconnect.
The script needs to be run regularly using Windows' built-in Task Scheduler. Of course, you can also use an application like AutoHotkey.
Powerful Comment System Script
Commentics is an advanced PHP comment script that can be easily integrated into your own blog/website pages and is 100% secure.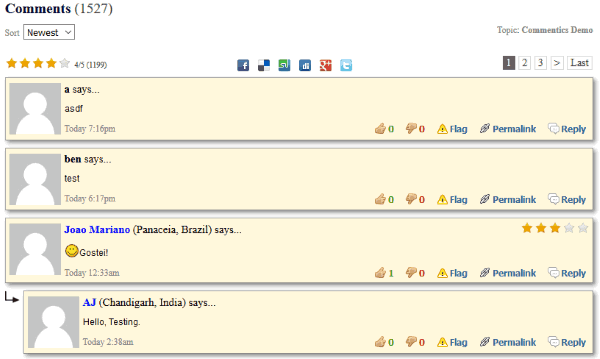 Getting fresh, user-generated content on a regular basis is a surefire way of boosting the popularity of your website. Of course, people have tried to abuse the system, posting comments that include links to dangerous websites, but Commentics also includes several spam prevention systems: captcha, swear/spam filters, acceptance of terms.
On the backend, Commentics allows multiple admins, has a drag-and-drop builder and allows you to import and export the comment database easily.
The script is open source and also has a support forum, an invaluable feature for a free code snippet.